People Are Meme-ing Taylor Swift's "Delicate" Music Video, and OMG I'm Cackling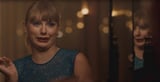 Taylor Swift knows how to get the people talkin', man. The artist just dropped the music video for her song "Delicate," and it's chock-full of hidden references, as per usual. But this time around, it looks like Swift's video has produced a somewhat unexpected offshoot: a sh*t-ton of hilarious memes.
During the video, Swift puts some rather quirky behaviour on display as she makes a series of dorky facial expressions at herself in the mirror and dances around like nobody's watching (see: does a split on the hood of a car and rips her blue fringe dress in half before breakin' it down on top of a hotel check-in desk). As soon as fans caught wind of the video, the reactions started rolling in on Twitter, and they're sure to make you LOL.
The best life hacks ever revealed to help make things easy everyday
Follow us on twitter @AUNewsToday