Cardi B Just Released Her Debut Album Cover, and It Already Feels Iconic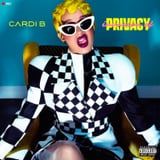 After a breakthrough year filled with hit singles, collaborations, award show appearances, and even an engagement, Cardi B is finally dropping her debut album. On March 26, the 25-year-old rapper shared her album's cover and title: Invasion of Privacy. Even better, fans won't have to wait long, as it's getting released on April 7.
Now, we have to discuss this album cover, which somehow feels like a pop-art brainchild of both Andy Warhol and Missy Elliott. In the shot, Cardi sits in a velvet armchair wearing a yellow wig, white cat-eye sunglasses, bright purple lipstick, and an '80s power suit if we've ever seen one . . . but in a checkered print, naturally. At press time, the cover has only graced the internet with its presence for an hour and already feels iconic, racking up over 800,000 "likes." It seems like 2018 is shaping up to be an even better year for Cardi.
The best life hacks ever revealed to help make things easy everyday
Follow us on twitter @AUNewsToday