Memo to Jake: If You Hate Drama So Much Maybe . . . Don't Cause It?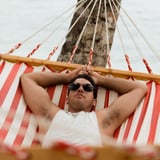 Jake Ellis seems like a really nice guy – in fact, his portrayal on The Bachelorette in 2016 meant he was pegged as just that: the nice guy of the season. Now that he's starring on Bachelor in Paradise, we're getting to know him a little better and it's proving to be very interesting indeed. We're only two episodes in and he's dominated most of the storyline . . . but it's not exactly for the best reasons.
To recap if you've missed it: Jake is good friends with Davey Lloyd from Sam Frost's season of The Bachelorette. Davey likes Florence Moerenhout from Matty Johnson's season of The Bachelor. Jake had something of a fling with Florence before the show, but (from the sounds of it) let it slide. All three of them are on Bachelor in Paradise together – and both Davey and Jake like Florence. Awkies!
In episode one, we saw Florence discussing her Jake romance with her friend and fellow contestant Tara Pavlovic. Tara, who's from the Gold Coast like Jake, informed Florence that "everyone has a Jake Ellis story" which was taken to mean that the guy gets around and is probably someone Florence needs to be wary of. Flo told Jake as much and he kinda flipped out about it – he didn't deny it but he didn't confirm it, and all he wanted to know was who had spilled the beans. At some point in the evening, Jake complained to mates that he hates drama, and indicated that Florence can be the cause of it.
Cut to a new scene: Davey gets given a date card but instead of choosing to take Florence on a date like he wanted, he takes Leah – purely so that he's not cutting his mate Jake's grass. BUT! Jake, scoring the next date card, chooses to take Florence and totally abandons any form of bro code – like, he literally interrupted Florence and Davey's convo to ask her on the date. It was brutal! Particularly since we'd just seen Davey rather gallantly give up time with Flo in order to respect his friendship with Jake.
When Jake returns from said date in episode two, he tries to be all buddy-buddy with Davey but Davey doesn't want a single bar of it. He calls Jake out and Jake storms off quickly, again saying he hates drama and has no time for it.
Here's the thing: if Jake hates drama so much, he should probably stop causing some of it.
We can't pretend to know the ins and outs of his relationship with Flo, but we do know his reputation has her worried. If he doesn't want her to cause "drama" by questioning him about it, he should step up and quell her fears. From the sounds of it, he's done the dodgy on her before (we could be wrong, of course), so we can't blame her for asking, can we?
Similarly, if he doesn't want Davey to cause "drama" by calling him out for pulling a pretty shitty move, Jake should've considered not pulling the shitty move – or at least, warning his friend about it first. If Jake really did like Florence in that moment and really wanted to explore a relationship with her, the right thing to do would've been to pull his friend Davey aside and talk it through. Considering Davey's instincts to put mates before dates, we reckon he might've been OK with letting Jake take the lead with Florence and things would've been calmer on the island.
Instead, we've got "drama." (And Jake hates drama!) But from where we're sitting, Jake's really just mistaking hurt feelings for the dramatics he dreads so much. Flo is anxious about Jake's past, Davey's stung by Jake's betrayal – this isn't drama per se, it's people being impacted by Jake's supposed actions, and calling him out for it. Time will tell if Jake realises that at least some of the tension comes to down to him.
Don't you just love how complicated relationships can get, even in Paradise?
The best life hacks ever revealed to help make things easy everyday
Follow us on twitter @AUNewsToday