JAY-Z Admits to Cheating on Beyoncé: "The Hardest Thing Is Seeing Pain on Someone's Face"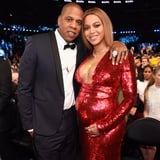 It's no secret that JAY-Z and Beyoncé are a power couple in every sense, but just like everyone else, they've had their share of marital issues during their 15-year relationship. The rapper recently sat down with The New York Times Style Magazine and spoke very candidly about his marriage to Beyoncé, addressing his past infidelity and revealing how they moved on from it as a family.
"You know, most people walk away, and like divorce rate is like 50 percent or something 'cause most people can't see themselves. The hardest thing is seeing pain on someone's face that you caused, and then have to deal with yourself," he said. "So, you know, most people don't want to do that. You don't want to look inside yourself. And so you walk away."
Rumours first began swirling that JAY-Z had cheated on Beyoncé in 2013, and it only got worse after the infamous elevator fight with his sister-in-law, Solange Knowles. The two have since been able to move forward because of therapy, JAY-Z revealed.
"I grew so much from the experience. But I think the most important thing I got is that everything is connected. Every emotion is connected and it comes from somewhere. And just being aware of it. Being aware of it in everyday life puts you at such a . . . you're at such an advantage," he explained. "You go into survival mode, and when you go into survival mode, what happens? You shut down all emotions. So even with women, you gonna shut down emotionally, so you can't connect. In my case, like it's, it's deep. And then all the things happen from there: infidelity . . ."
Beyoncé was the first to hint at the cheating rumours being true in her 2016 album, Lemonade. JAY-Z then did the same shortly after on his track "4:44" off his latest album of the same name. "We were using our art almost like a therapy session. We were sitting in the eye of the hurricane. The best place is right in the middle of the pain. And that's where we were sitting. And it was uncomfortable. And we had a lot of conversations. You know. [I was] really proud of the music she made, and she was really proud of the art I released. And, you know, at the end of the day, we really have a healthy respect for one another's craft. I think she's amazing."
This post is from POPSUGAR Celebrity. Click here to read the full text
The best life hacks ever revealed to help make things easy everyday
Follow us on twitter @AUNewsToday